Horseback Riding Tours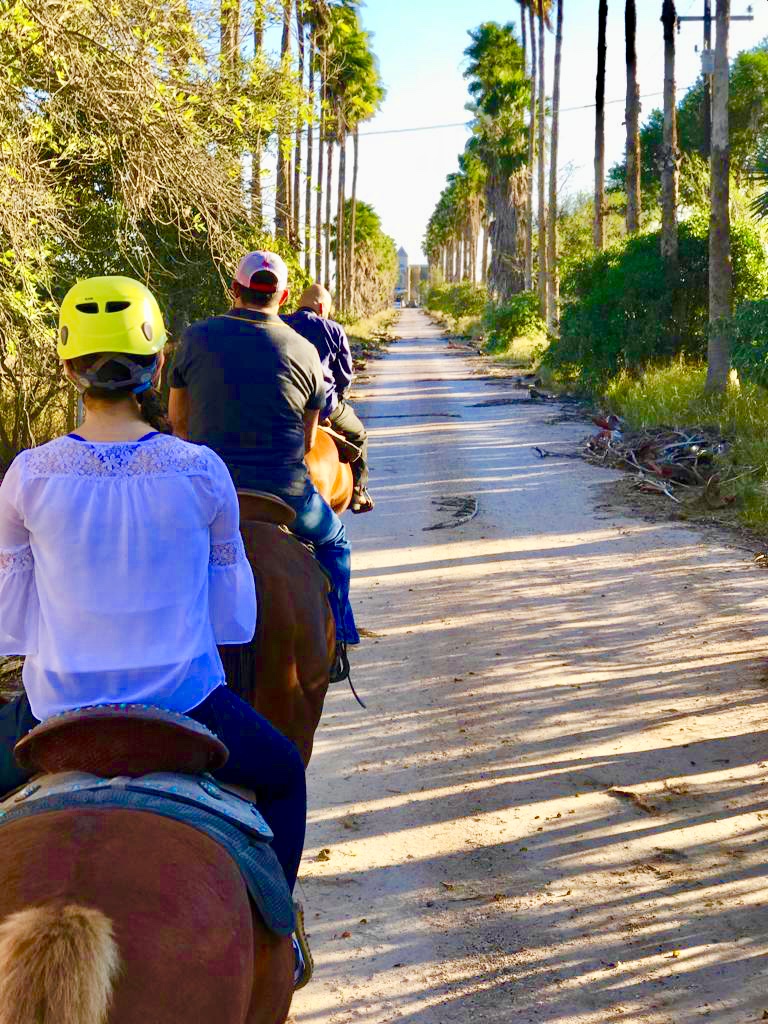 So you want to ride a horse? But you are filled with doubts whether you think you can actually get yourself to do it? Let me put you at ease. You can definitely do it! Texas Border Tours has some of the best horses north of the Rio Grande River. Come and experience a unique trail ride and build a memory that will last a life time.
About Our Horse Trail Rides
The adventure begins at our location in Progreso Lakes, Texas (1001 Industrial Dr). We saddle up the horses and prepare you to familiarize yourself with the horse you will be riding that day. Your tour guide will take a few minutes to go over some information about the do's and don'ts while on the trail, as well as getting to know your horse. Once you are comfortable and familiar with your horse, you will begin to mount. Don't worry if you don't think you can throw your leg over and reach the stirrup, we have a step-stool that can assist you with mounting your horse easy and conveniently. Once everyone in the group has mounted the horses we are ready to go.
As soon as the first horse starts to move, your horse will follow the others. The lead horse typically sets the pace of the tour, and for the most part it is a leisurely pleasant experience for you and the horse. During the summer months with the temperatures reaching in excess of 100 degrees we typically do sunset tours. We have found that it's better for everyone on the tour. After riding for a few minutes, you will start to become aware of nature sounds, birds and the rustling noise the wind makes as it stretches across the tall grass and trees.
You pay closer attention and you can feel the heartbeat of your horse, you can feel the warmth of his body on your legs and you can feel his breathing. A sense of comfort and tranquility over takes you. You feel happy and relaxed. The experience is just as you had imagined it would be. As you ride, your horse stops and eats every chance he gets. You want to keep going, you don't want to fall behind from the group, but you don't want to disturb your horse from getting a snack. You look west and you see the most beautiful sunset, the pink, violet and gentle blues adorn the sky. It is magnificent, you are memorized but the scene of nature.
As the trail ride pushes south, you notice this antique looking house sitting at the end of a driveway that is covered by tall palm trees that adorn the entrance to the property. As you ride closer to the house you can sense a feeling of eeriness forming around you. The house seems like one of those out of a scary movie set. Your guide then tells you that its a Halloween attraction in the area. The house has with stood over a century of history, and now it serves as a place for people to come and get a good fright.
Past the historical marker a path leads through a small wooded area, that eventually opens up to a gravel road. As you keep riding south you come within a few hundred feet of the border fence. At that point the trail ride loops on around and you begin to head back to the finish line.